Workers' Comp Attorney in Sacramento
Suffered an Injury at Work? Call Our Certified Specialists at
(916) 571-0400

!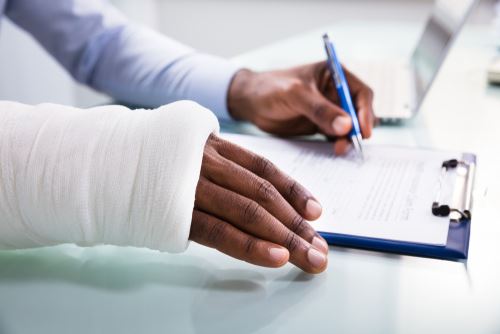 Many victims of workplace injuries and illnesses are surprised to find that they need a lawyer. They simply expected that their employer would come through for them and provide workers' compensation. Instead, they learn just how hard employers and insurance companies can push back. That is where our Sacramento workers' comp attorneys come in.
At Smolich and Smolich, our Sacramento workers' compensation attorneys are dedicated to guiding people through the legal process of obtaining workers' comp benefits from start to finish. Ready to get started on your claim? Concerned about eligibility? Unsure about your rights? Questions about a denied or delayed claim? No matter what stage you find yourself in the claims-filing process, our team can guide your steps toward the favorable resolution you seek.
Northern California Workers' Compensation Attorneys Representing Injured Workers in All Industries & Jobs
Our lawyers represent injured workers who have been involved in construction accidents, industrial accidents, and workers in all industries who have become injured or ill due to workplace activities. While pursuing workers' compensation is the first step, we always review cases for the opportunity to pursue third-party negligence claims or Social Security Disability benefits.
We handle all types of workers' comp cases, including:
Providing Trusted Legal Counsel Since 1969
At Smolich and Smolich, you will find Bar Certified Specialists in Workers' Compensation law. The title of Certified Specialist is bestowed upon only a small percentage of attorneys by the State Bar of California. Our attorneys have demonstrated that they possess an in-depth of knowledge of workers' compensation law, and have the superior skills and expert experience necessary to help you file a claim if you have been hurt on the job.
We attribute our success and the longevity that has come with it to the hands-on attention we provide in every workers' compensation case. Not only will we spend time with you by educating you about the process and keeping you updated about your case's progress, but we also tailor a legal strategy to meet your needs. Our Sacramento workers' compensation lawyers can work directly with your medical provider to obtain any medical information necessary to bring a satisfactory resolution to your case.
Common Reported Workplace Injuries in Sacramento
10. On the Job Violence
When people spend hours and hours together every day, it's not unreasonable to expect that they'll eventually grow tired of each other. When you toss in a controversial topic like politics, you have a high risk for a potentially violent outburst. Fistfights, assault, and other forms of violence can lead to potentially serious injuries, and no workplace is completely immune. However, workplace training and a culture that encourages people to report someone who they suspect might turn violent could help curtail these incidents.
9. Repetitive Motion Injuries
These may not seem all that obvious to most workers because they often occur over long periods of time, but even simple tasks repeated over and over again for hours on end can lead to serious wear and tear on your muscles and joints, leading to painful injuries. Even something as simple as typing or using the computer can lead to one of these injuries, including the fairly well-known carpal tunnel syndrome. Other afflictions include back pain, vision problems, and more. The easiest way to prevent these things is to use proper posture and ergonomic equipment, such as a standing desk or keyboard that sits at the right height.
8. Machine Entanglement
Factory workers who are frequently around heavy moving machinery are constantly at a much more elevated risk of injury than even they might know. Clothes, shoes, hair, fingers, and other extremities are frequently around moving parts, and injuries can occur easily and frequently when no precaution is taken. Protective equipment such as gloves, helmets, hair nets, and other devices can help prevent this from happening, but the most important protective measure is to simply train employees and make them aware of the danger so they utilize the machinery with the utmost caution at all times.
7. Vehicle Accidents
We all know how dangerous a car accident can be, and those who are required to drive for work are constantly exposed to that same risk. The risk elevates even higher for companies who require their workers to use cell phones for work tasks while behind the wheel, including taking calls, checking emails, or navigating to a destination. Many companies have taken steps to combat this by instituting full cell phone ban policies, but nonetheless, the injury risk is still present, particularly when the roads are at their busiest.
6. Walking Into Things
We've all laughed at the video of someone with their eyes glued to their phone walking into a door they didn't realize was close in their face. However, it's a lot less funny when that person is you… or you sustain a rather severe injury as a result of it. Sometimes the object in the way isn't a door, but a cabinet, window, table, or chair, and sometimes it happens while trying to carefully navigate while holding something heavy or precariously balanced. It's not uncommon for these collisions to result in broken bones, muscle issues, heavy bruising, and more.
5. Falling Object Injuries
If you own a business, odds are you put things on shelves. Anything that is stored off the ground level could potentially fall, and anything that falls could land on an employee, resulting in an injury and a workers' compensation claim. The key to avoiding these issues is to secure anything that's heavy or stored at a dangerous height, and be sure to use proper protective equipment if anything heavy is being moved while at height. Also, never overload any shelves or storage devices.
4. Reaction Injuries
Have you ever slipped on a wet floor and avoided falling but felt pain from the incident afterward? Often times our first instinct to avoid an injury results in us getting hurt in another way. Pulled or torn muscles, body trauma, or other medical issues can all arise from a sudden reaction and attempt to avoid a different type of injury. While you may feel particularly skilled after managing to avoid winding up on your backside when you accidentally found that patch of water on the smooth, tile floor, don't be surprised if you start feeling the pain from the incident not long after.
3. Falling From Heights
While an object falling from a height can cause injury, a person falling from height almost certainly will cause one. Roofs, ladders, stairways, boxes, stools, and plenty of other devices can all lead to a potentially serious injury, particularly if the person using them isn't paying attention. The most effective way to avoid these injuries is to simply be careful when using anything that takes your feet off the ground, whether one foot or a hundred feet. If necessary, use the proper safety equipment.
2. Falling Injuries
Believe it or not, you don't even need to be at height for an injury to occur, and in fact it's less common to be injured falling off of something than it is to simply fall due to the ground you're already standing on. Slip and fall or trip and fall injuries are the second leading cause of injuries in the country, and it's extremely easy for one of these injuries to occur unexpectedly. A small uncleaned spill or an extension cord running across a floor may seem innocuous but could cause a potentially major issue if it were to bring anyone down. Common fall injuries include broken bones, lacerations, and even concussions or severe trauma.
1. Overexertion Injuries
You've probably heard someone say the phrase "Don't overdo it." An overexertion injury is exactly what they're referring to. Overexertion can be something as simple as working yourself to the point of fatigue and exhaustion, but more commonly refers to something in your body simply becoming too stressed and being damaged. Actions such as pulling, pushing, lifting, carrying, throwing, and more could all lead to an overexertion injury, and they can occur nearly anywhere on your body, including knees, wrists, elbows, shoulders, hands, and back amongst many other places. Muscle tears or strains, joint dislocations, and more could all be an overexertion injury, and they usually occur quickly, and in many cases very painfully.
What to Do If You've Been Injured at Work
If you have been injured at work, be sure to do the following:
Notify your employer of the injury or at the first sign of an illness you believe to be work-related. You have 30 days under California law to report the injury to preserve your right to seek benefits under workers' compensation.
Seek medical treatment promptly. If your injury does not require emergency care, your employer will tell you where to go for medical care.
Tell your treating physician that your injury is work-related.
Get a workers' compensation claim form from your employer, complete it, and return it to your employer as soon as possible after reporting your injury.
Closely follow your treating doctor's advice and obey any work restrictions they may give you.
Seek legal advice from a trusted attorney and explore your legal options.
Sacramento Workers' Compensation Frequently Asked Questions (FAQ)
What kind of injuries does workers' compensation cover?
Any injury that you suffer on the job can be covered in a workers' compensation claim. This includes repetitive trauma, construction accidents, cumulative trauma injuries, industrial accidents, and career-ending injuries. Whether you are seeking temporary disability for an issue that you can recover from, or if you will no longer be able to return to your job, our lawyers work with you to get the compensation that you need.
What benefits am I entitled to?
Below is a list of benefits provided by workers' compensation insurance for employees who are injured while performing their job duties:
Medical costs to treat workplace illnesses and injuries: When an employee is injured and requires medical attention, the employer's insurance company is generally responsible for covering the costs of any medical bills related to the injury or illness. This could include ambulance rides, emergency room visits, follow-up visits, medication, assistive devices, and more. Moreover, workers' compensation is not a fault-based system, so even when employees are partially responsible for their own injuries, workers' compensation will cover their medical expenses.
Lost wages: For serious injuries that require time away from work to recover, workers' compensation will cover a portion of an employee's missed wages. However, workers' compensation will not cover the entirety of your missed wages, no matter how much time you have to miss from work.
Ongoing medical care: Not all injuries are destined for a full recovery. When an employee sustains a workplace injury or illness that requires ongoing care, including surgery, rehabilitation, or treatment from specialists, this is also covered by workers' compensation benefits, even if the employee can never return to work.
Funeral costs and death benefits: In cases where a workplace injury results in a fatal injury, workers' compensation can also cover the costs of funeral expenses, allowing the employee's family to grieve without being burdened by worrying about money. It is also possible for workers' compensation to cover death benefits, including support payments to dependents of the employee.
Temporary benefits can be awarded to workers who are expected to return to their jobs after a period and rest and recovery. For major injuries that will prevent you from going back to work, Social Security Disability (SSD) may be appropriate. Other benefits, such as death benefits when a family member dies on the job or money to help pay for your medical treatment, may also be awarded through a workers' compensation claim.
Is there a time limit to file a workers' compensation claim?
In general, the statute of limitations to file a workers' compensation claim is a year after the date of your injury. Failure to file within this time frame can delay your benefits or cause your claim to be denied outright. However, there are also many exceptions, so speaking with a Sacramento workers' compensation lawyer about your specific situation is very important.
What if my employer was not responsible for my injury?
Third-party negligence claims are intended for those who were injured on the job due to a defective product or piece of equipment, a third-party driver, or other businesses or vendors. Filing this type of claim can help you seek compensation even when your employer's insurance is not liable.
How Can A Workers' Compensation Lawyer in Sacramento Help You?
Having an experienced attorney by your side to help you with your workers' compensation claim is essential for ensuring that you have all of the legal counsel and support that you need during this difficult time. Without a workers' comp attorney, you may be risking the full compensation amount that you rightfully deserve.
A workers' compensation lawyer can help you by:
Providing you with valuable legal counsel
Serving as an emotional support system
Gathering important evidence to support you
Handling paperwork involved with your case
Effectively negotiating on your behalf
Representing you in the courtroom
Helping you prevent costly mistakes
Helping to maximize your compensation amount
Saving you time by preventing mistakes that may prolong the process
Getting injured at work may be a traumatic and difficult experience. No matter the severity of the accident, seeking justice is your right. Contact our workers' comp attorneys to learn more about what we can do to help maximize your compensation amount and ensure that your rights and your future are protected.
Suggested Reading: