About Us
Learn More About Smolich and Smolich from Attorney James Smolich
"Our firm has been in existence for 50 years and has represented union members since its start.
I was a member of International Longshoreman and Warehouseman's Union Local 17. My brother Rob, who is my partner, was a member of Construction Laborers Union Local 185. We not only represent union workers, but we also have a long history of being part of Northern California unions.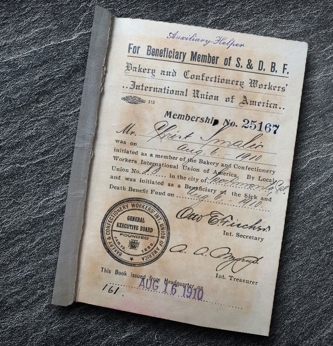 Photo of James and Robert Smolich's grandfather's union book dated 1910. The family has been part of the Sacramento union movement for over 100 years.
We are familiar with union medical and pension benefits and can counsel our clients about those important issues. Many union members face complex issues involving work-related injuries and disabilities, and how they affect their medical eligibility, disability retirement, State Disability, and Social Security Disability benefits. We advise and represent our clients in these matters to allow them to make important decisions about their and their family's future.
Union construction workers and teamsters often sustain injuries caused by the negligence of others. They may have personal injury claims in addition to workers compensation benefits. Complex issues arise out of the two overlapping systems, and our firm has specialized in representing clients in this type of case for over 50 years. This experience is critical in maximizing our client's recovery.
Smolich and Smolich is a law firm for hard-working people. Union member clients are the foundation of our firm."